Altcoins is a catch-all term for all cryptocurrencies besides Bitcoin. It appeared as a result of the abbreviation of the established designation "alternative coins."
Altcoin season (altseason) is a name given to a time period in which many altcoins increase significantly in value. Let's find out why it happens and how to profit from it.
What Are Altcoins?

Bitcoin was the first cryptocurrency, so it went down in history forever. Its success provoked many other coins to appear. Crypto market participants had a choice between BTC and other cryptocurrencies, so they became known as "alternatives."
BTC has kept its primacy since its creation, which has made it an indicator of the entire cryptocurrency market's stability. Other projects seem to be following suit. A drop in Bitcoin is inevitably followed by a fall in the value of other cryptocurrencies. The same goes for a rise.
Altcoins can be divided into groups:
Stablecoins. Assets whose price is tied to the value of a particular asset or fiat currency, most often the U.S. dollar.
Fan tokens. Tokens belonging to sports teams, brands, or celebrities.
Meme coins. They have no particular purpose and are originally issued just for fun.
DeFi tokens. Tokens from decentralized finance projects.
There are also other types of altcoins.
Why Altseasons Occur

During an altseason, many cryptocurrencies grow faster than BTC. Investors who have invested in altcoins can make large profits in just a couple of weeks. An analogy to help you understand is Christmas tree sellers. They can make as much in just a few days as they do for the rest of the year.
The altseason happens in the periods between Bitcoin's rallies. BTC's volatility drops at these times, and users invest in other coins. As lots of money is poured into altcoins, they begin to shoot up, i.e., grow rapidly in short time intervals.
How to Recognize an Altseason Is on Its Way

It's not necessary to closely follow the market and plenty of charts. A couple of metrics are good enough to detect an upcoming or already approaching altseason.
Bitcoin Dominance Index

The metric shows how much of the first cryptocurrency's cap is relative to the entire market's cap. The higher the index, the more money there is in BTC compared to other cryptocurrencies, and vice versa.
The chart of BTC's dominance from 2014 to date looks like this:

It shows that the first cryptocurrency began to climb down in 2017. It's generally believed that an altseason starts when BTC's dominance drops below 50%. This time it came on April 1, 2021, and continues to this day. However, there's another indicator to consider.
Altcoin Season Index

A simpler way to understand what phase the market is in right now is to look at the Altcoin Season Index. At the time of writing, the indicator shows the following: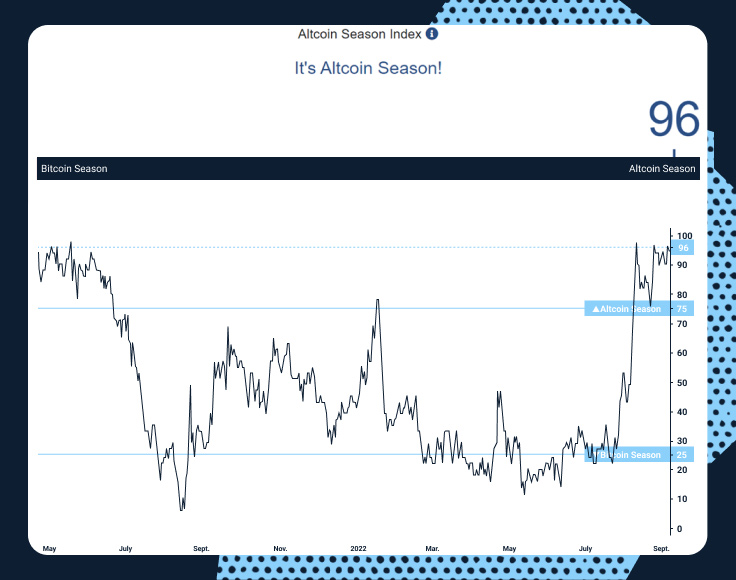 The 96 mark signals that 96% of altcoins have grown stronger than Bitcoin in the last three months. Technically speaking, we're experiencing a real altseason now. However, the market has seen a prolonged decline for a long time. That's why investors can't make money without extremely high risk. 
Note: There's also a so-called Bitseason. It occurs when the indicator value falls below 25. Such an index signals that money from altcoins is flowing back into the main asset — Bitcoin.
Altcoin Choice Factors

When choosing altcoins for investing or trading, you should pay attention to the following factors:
Capitalization. If a cryptocurrency is expensive at the moment, it's definitely an important indicator. However, you have to look at its history to see if there have been major drops in capitalization before. Usually, such dips indicate a decrease in demand for the asset.
Technology. There are tens of thousands of useless crypto projects. Only a small fraction is designed to solve specific problems. It's precisely these cryptocurrencies that deserve attention. For example, Cosmos (ATOM) aims to combine different blockchains into a single system to boost the industry.
Team. If the developers of a project are unknown, you should be cautious about it. Promising crypto projects usually have strong leaders capable of getting people interested in their ideas.
Goals. If a cryptocurrency is simply existing, its future is hardly bright. But if the project team sets clear goals and strives to achieve them, the chances for success are much higher.
Tokenomics. Investors must understand what share of the total coin issue is in circulation, when additional tokens will be in the market, and so on. For instance, if only 15% of cryptocurrency is in free circulation now, and another 15% will start trading in a month, this will put significant pressure on the price, and it can drop drastically.
Which Cryptocurrencies Grew During the Previous Altseason?

2021 had quite a bright and long altcoin season, which allowed some investors to multiply their investments dozens of times. According to CoinMarketCap, the following projects rose the most at that time:
Gala (GALA) — 10,891%;
Axie Infinity (AXS) — 10,598%;
Solana (SOL) — 7,998%.
However, increases in previous seasons don't guarantee any growth in subsequent seasons. For example, Terra (LUNA), which surged 5,071% in profits in 2021, was $68 per coin on May 7, 2022. On May 13, 2022, its price fell below $0.0001. The chart looks like this: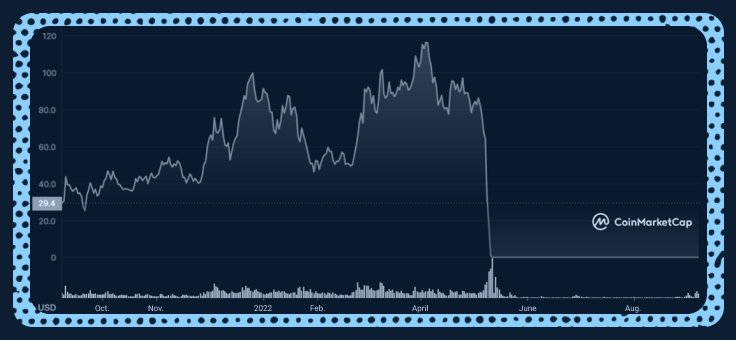 The reason was a defect in the algorithms of the UST stablecoin, whose value was provided by LUNA. The project's further fate is very questionable, but that's a story for another day. What matters is to understand that anything can happen in the crypto market.
Altseason: Summary

Here are the main points to keep in mind:
Altseason is a time period when altcoins rise in value more than Bitcoin.
Altcoins refer to absolutely all cryptocurrencies other than BTC, even Ethereum.
The Bitcoin Dominance Index and the Altcoin Season Index are the basic metrics to detect whether an altseason is on its way.
The major reason for the onset of an altseason is the capital flow from BTC to other crypto-assets to boost profits.
There's no way to accurately predict which cryptocurrencies will rise in the next altseason. One can only speculate with some degree of probability by studying the market thoroughly.
During the upcoming altseason, don't blindly expect growth from those coins that rose well in the previous one.
If you want to earn during the altcoin season, it's important to constantly monitor the market, study crypto news, and look for promising projects. This way, you'll have a much better chance of figuring out what's worth investing in.