Developers Jackson Palmer and Billy Markus created Dogecoin in 2013. The project was conceived as an ironic parody of Bitcoin. In coming up with a name, Palmer and Markus were inspired by an Internet meme featuring an image of a Shiba Inu dog with a skeptical expression on its face.
"Doge" is a deliberate misspelling of the word "dog" in Internet slang. The doge meme soon became so popular that the Know Your Meme website named it the No. 1 meme in 2013.
Markus, the project's co-founder, left his brainchild in 2015. His earnings from Dogecoin were enough to buy a used Honda Civic. Markus said he left due to "harassment" from the community. The same year, Palmer also exited the project, saying that the cryptocurrency market was like "a bunch of white libertarian bros hoping to get rich with half-baked business ideas." By then, however, the project had already taken on a life of its own.
How Does Dogecoin Function?

Technically speaking, the Dogecoin blockchain network is a fork of the cryptocurrency called Luckycoin, which is a fork of Litecoin, itself a fork of Bitcoin.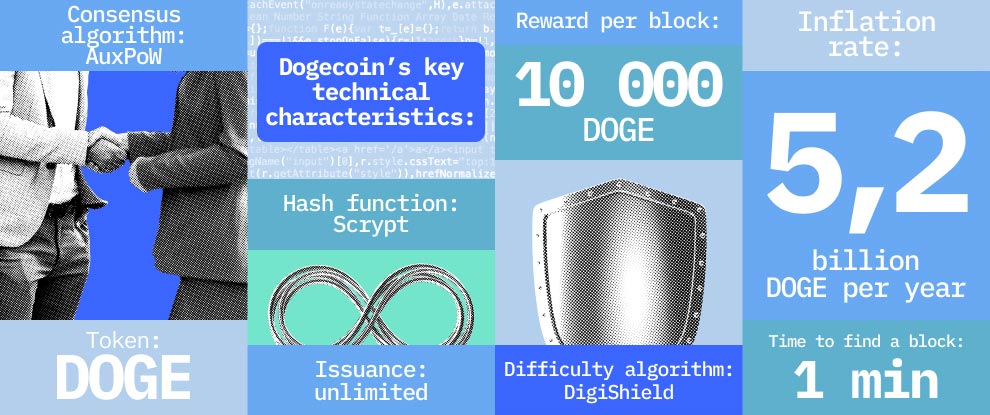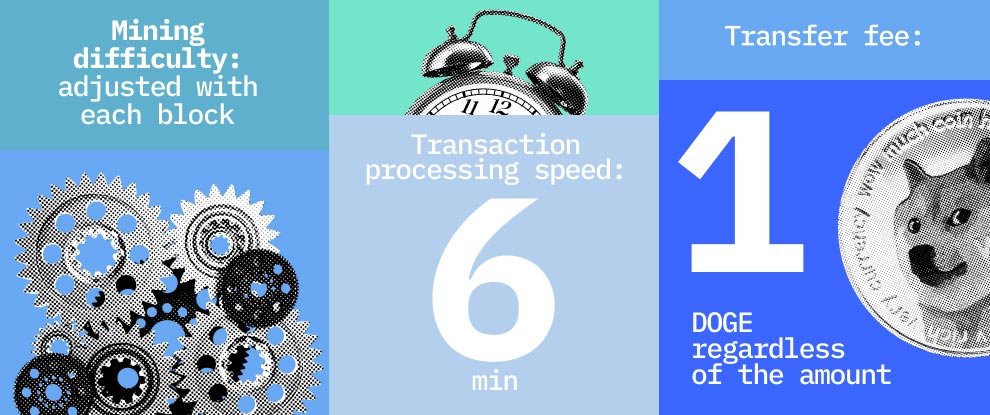 The Dogecoin blockchain uses the Scrypt hash function, which requires a large amount of RAM. Scrypt complicates mining with ASIC devices, application-specific integrated circuits, but allows for crypto mining with amateur-level equipment such as CPUs and GPUs. This feature helps create a more decentralized network.
Moreover, Scrypt requires less processing power than the SHA-256 algorithm used in Bitcoin, so it enables faster and more efficient transactions by reducing the time it takes to find a block and quickly confirming it.
The use of Scrypt has been one of the critical factors in Dogecoin's success as it's contributed to making the cryptocurrency more accessible and decentralized and building a strong and loyal community of supporters.
The project is designed and developed by the community. The Dogecoin Foundation was created for common management in 2014. At some point, it ceased its activity, but it was "revived" in 2021 on the wave of rapid growth in DOGE's price. Among others, the organization's advisors at that time included:
Vitalik Buterin, Co-Founder of Ethereum;
Jared Birchall, Elon Musk's Fixer;
Max Keller, Lead Developer of Dogecoin;
Billy Markus, Co-Founder of Dogecoin.
However, the latter returned to the project for a short time and eventually left it the same year.
The Dogecoin Foundation is a non-profit volunteer organization. Among its main tasks are fundraising, participation in strategic planning of the project's future, and coordination of the work of volunteer developers and other enthusiasts.
How Did Dogecoin Get Popular?

After its launch on December 6, 2013, the new parody cryptocurrency was known only to a limited circle of crypto enthusiasts, community members on Reddit. Its popularity was boosted by an event in December 2013, when DOGE jumped in value by nearly 300% in just three days. Though the token's price soon fell, this was a turning point in its history.
In late December 2013, hackers stole over 21 million DOGE from users of DogeWallet, which was developed by enthusiasts. But the close-knit community held a fundraiser and recovered all the stolen assets.
At some point, Tesla and SpaceX CEO Elon Musk got fascinated with Dogecoin and started writing about the cryptocurrency regularly on social media. He published a series of tweets in December 2020, starting with "One word: Doge."

In February, Musk also tweeted that he bought some coins for his baby son "so he can be a toddler hodler."
Whenever Musk writes on X (ex-Twitter) about DOGE, the cryptocurrency's value goes up. For example, when the entrepreneur posted about SpaceX going to quite literally send Dogecoin to the Moon, the asset's price soared 35%, hitting a six-week high. On April 14, 2023, his tweet with a weird photo of an animal roaring at the Moon, captioned "Doge Barking at the Moon," caused the price to skyrocket 68%.
Tokenomics and the Dogecoin Ecosystem

Tokenomics is an economic model of a cryptocurrency project that takes into account the factors that make this cryptocurrency valuable:
how many coins are available;
how quickly new coins are created;
how coins are distributed;
how tokens can be used within the ecosystem.
By understanding these factors, experts can predict how successful a cryptocurrency will be.
Inflation
Unlike cryptocurrencies that pursue scarcity and limited supply, Dogecoin takes a different approach. The project implements a deterministic inflation model, which suggests that the periodic supply of DOGE is controlled and will change according to inflation trends.
Thus, the constant growth in supply is intended to provide more tokens for transactions and use within the ecosystem.
As of October 19, 2023, there are approximately 141.5 billion DOGE in circulation. Dogecoin originally had a supply limit of 100 billion DOGE, but it was lifted in 2014 to achieve a consistent decline in inflation. In 2018, the original supply of 100 billion DOGE was depleted. As a result, inflation fell from 5% in 2015 to a level below 4% in 2019. Further declines are expected to reach 3% by 2027 and 2% by 2035.
Mining
Token issuance is backed by a mining mechanism. Dogecoin uses a reward system for continuous mining. Each block mined brought 10,000 DOGE to miners, making the total number of tokens grow by about 5 billion annually.
Miners are critical in securing the network and verifying transactions, and in return, they're rewarded in the form of newly minted DOGE coins.
More so, to improve the security and profitability of miners, the meme coin's team introduced merged mining in 2014. Litecoin miners could mine Dogecoin without increasing costs or utilizing additional resources.
The Dogecoin Ecosystem
The first attempt to create a Dogecoin-based crypto ecosystem occurred in September 2018, when the Dogethereum cross-chain protocol was introduced. The project supported smart contracts and allowed DOGE to be moved to and from the Ethereum network. It also assumed interoperability with other networks in the future. However, the protocol was abandoned.
In 2022, Dogecoin developers made a new attempt to build a decentralized ecosystem. Dogechain was launched, a Layer 2 solution for Dogecoin based on Polygon Edge and fully compatible with Ethereum smart contracts and transactions. The L2 solution runs on IBFT (Istanbul Byzantine Fault Tolerant), a variation of the PoS algorithm. The DOGE token is used to pay for gas within the network.
Dogechain enables the deployment of decentralized applications (dApps), the use of non-fungible tokens (NFT), and the development of decentralized finance protocols (DeFi).
In early January 2023, the Dogecoin Foundation formed a 5 million DOGE (~$360,000) fund to support the development of the project's ecosystem. The funds will be directed to the product developers.
DOGE Use Cases
Dogecoin stands out among other cryptocurrencies because it was used for its intended purpose from the very beginning – as a means of payment. Initially, the token was mainly used to reward Reddit and Twitter users. Due to the low fees and high speed of transactions, the coin is also actively used in charity and support of various initiatives.
For instance, in 2014, users successfully raised $30,000 in tokens to send the Jamaican bobsled team to the Winter Olympics, $50,000 to build water wells in Kenya, and $55,000 to sponsor NASCAR driver Josh Wise.
What to Buy with Dogecoin?

Most online stores and offline sellers still don't accept digital assets in 2023, but there are exceptions. Some examples:
In 2021, Latvian national airline airBaltic announced that its passengers can use Dogecoin and Ethereum to book flights.
In January 2022, Tesla introduced its line of merchandise that could only be purchased with DOGE.
In October 2023, it was announced that residents of the American states of Idaho and Utah could pay for broadband Internet access using DOGE.
Fans can purchase tickets to Dallas Mavericks home basketball games with Dogecoin.
Amazon and Apple Store gift cards can be purchased with DOGE through the Bitrefill platform.
The acceptance of Dogecoin has skyrocketed in recent years. DOGE can be used to buy food, drinks, and products in online stores and to pay for hotel accommodations. According to Cryptowerk, more than 2,000 different commercial organizations accept DOGE for payment.
Recently, electronics retailer Newegg introduced the token as a payment method in its stores, which operate in over 70 countries. The cryptocurrency is supported by some prepaid cards, and companies can directly integrate with the Dogecoin blockchain via a JSON-RPC interface.
What Are Dogecoin's Prospects?

In May 2021, the price of DOGE reached an all-time high, approaching $0.69, although it was $0.0046 on January 1 that year. By the end of 2022, Dogecoin dropped to $0.07 amid a general decline in crypto market cap. Nevertheless, the cryptocurrency still steadily ranks in the top 10. As of October 19, 2023, Dogecoin's market cap is $8.24 billion with the price of $0.06. The information is given in accordance with CoinMarketCap.
The project keeps developing. In late December 2021, Dogecoin Foundation representatives published a roadmap for 2022-23. The main areas of development include:
Building the Dogecoin Keyring app and SDK, which will allow users to store tokens while integrating GigaWallet APIs so that DOGE can be traded via mobile apps without a private key.
Developing the Community Staking program.
Developing the C library of Libdogecoin building blocks, which will allow developers to create their own Dogecoin-based solutions and deploy the cryptocurrency on various platforms.
Creating Dogecoin Standard, a comprehensive documentation resource for Dogecoin developers.
Launching RadioDoge based on the Starlink satellite constellation, which will enable payments in DOGE without a global network connection.
A major factor in the cryptocurrency's growth and spread may be the use of DOGE as a means of payment in the settlements of X users, rumors about which have been actively circulating for a long time. In any case, the project will certainly continue to develop, given the scale of its community and support from the powers that be. By the way, the CP Media team wrote more about meme coins in the separate article.